AP – Nov. 17: House Majority Leader Steny Hoyer and Speaker Nancy Pelosi walk to a news conference on Capitol Hill.
House Democrats barely cleared a procedural hurdle Thursday to advance a bill making middle-class tax cuts permanent as Republicans accused them of playing political games at a sensitive time.
House Republican Leader John Boehner described the Democratic maneuvering as "chicken crap." With a panel of administration officials and bipartisan members of Congress in the midst of negotiations to work out a deal averting the looming expiration of the Bush tax cuts, Boehner argued that Thursday's vote is not helpful. (FNC-AP)
WASHINGTON — Democratic Rep. Charles Rangel, a 40-year veteran of Congress, faces an almost certain censure by the House of Representatives, a devastating defeat for a man who insisted to the end that he never meant to violate House rules.
If the House votes for censure Thursday as expected, the New York Democrat will have to humbly walk to the front of the chamber to receive his punishment. He'll stand in front of his colleagues while Speaker Nancy Pelosi — in one of her most solemn duties — reads him a resolution condemning his unethical misbehavior. (FNC-AP)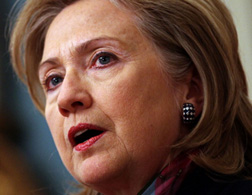 Hillary ClintonA U.S. diplomat must possess patience, poise, and tact. He must also be attentive to cultural differences, a good observer, and proficient in several languages. When called upon, he must use his skills as a negotiator in the national interest. And, as the latest dump of WikiLeaks tells us, if the dip works for Secretary of State Hillary Clinton, he must also be prepared to spy on his fellow diplomats.
To be fair to Clinton, she isn't the first secretary of state to issue cables telling U.S. foreign service officers to spy on other diplomats. According to the leaked diplomatic cables, Condoleezza Rice likewise instructed State Department diplomats to collect such intelligence, and I wouldn't be surprised if previous secretaries of state encouraged if not instructed their diplomats to push information-collection all the way to intelligence-gathering. (Slate.com)